The web design landscape is constantly evolving. What appeared fresh and modern yesterday can look dated overnight and the trends that were once dismissed as beaten can unexpectedly rifle back to the web design scene. Going by the massive developments and trends in 2016, 2017 comes with a stronger and better tide. Here's a list of the ten trends you need to watch out for in 2017.
1. Cinemagraphs
Cinemagraphs are still photos commonly executed as Graphis Interchange Formats (GIFs) where minor and repeated movement happens to create a video clip. Web designers have been increasingly using cinemagraphs to add visual interest and movement to pages that would be otherwise static.
2. Bold Typography
More clients are requesting their designers to create homepages with big, bold typography. Combinations of the bold and attractive typography with other details kept to minimal and in small font works best. You can find some examples on our best landing pages design webpage.
3. Richer patterns and backgrounds
There was a sharp rise in the diversity of backgrounds and patters web designers used in 2016 with increasing use of stripes, dashes and dots. The grid pattern has been a favorite for many where they create a "frame" and then fit in other elements and move them about based on the parallax principle and this results in a seemingly chaotic yet attractive website. Some sites that have used this grid pattern include maisonullens.com and brand.uber.com. the design has caught on as it rationalizes some unconventional decisions.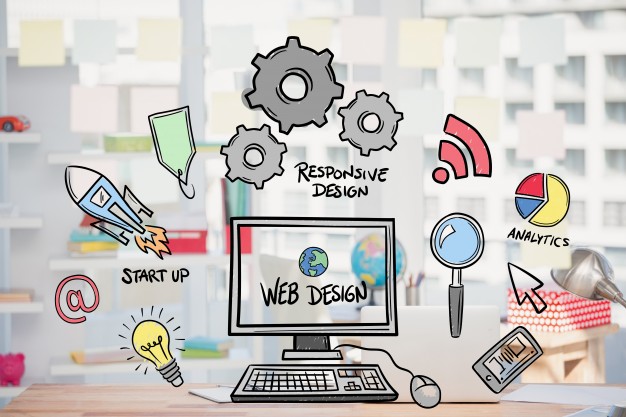 4. Bright gradients
Kaleidoscope gradients have caught on as a favorite trend in web design after several years of exciting the scene. Many designers go for a two-tone effect featuring bright colors that fade away and merge into each other beautifully at a selected point (usually at the centre) of the page. The entire page looks gradient-washed in a spectacular way and this trend is bound to attract many designers and clients alike.
5. Simple and straightforward text
Some designers are rapidly leaning to the old adage of "simple does it best" and this case they are eliminating images and numerous navigations on the page opting instead for some few catchy lines to inform visitors to the site about their offers. Some opt to use the mission statement, or company slogan. A click on the simplified wordings takes visitors to deeper content. The trend is fast catching up as it appears bizarre and raises the curiosity of the visitor.
6. Illustrations
Illustrators and graphic artists are coming to the web design world in a big way. Their illustrations are based on minimalism and flat design. Web designers just add photos of hand-drawn pictures and paintings to the website adding links to each as it communicates deeply about the content a visitor is searching for. Illustrations are often used for PPC Landing Page.
7. Duotone
Duotone goes for parring down schemes of just two basic colors to draw on the curiosity and awe visitors. This trend is very befitting for art –based websites. At times the site can even go for a single color against a white background and minimalism of content on the homepage to add o the mystery and artistic impression the designer wants to create. Example: See ToysHub & Creato Logo Design.
8. Mixing vertical and horizontal text
Designers are lately choosing to free texts from their horizontal confines and aligning some text vertically to add to the uniqueness of the site and distinguish it from many others. Again this calls for minimal content on the homepage.
9. Inclusion of geometric patterns and shapes
This trend is fast catching up where patterns made from basic shapes are repeated at very "odd" sections of the page such as at eh centre of the page. These patterns are also aligned horizontally and vertically or even diagonally to add the uniqueness of the pager.
10. Modular design
These create detailed objects on the homepage and dwell on detailing the 3-d format of things. They may be crumpled at some dominant point and then given an elevation to make it more interesting and eye catching.